If you like to fish, an Alaska fishing trip is one you don't want to miss! Alaska is still unspoiled and untouched. Southeast Alaska has the greatest salmon fishing in the world. There are five different species of salmon that show up at different times all summer long. That means millions of salmon are returning to Southeast Alaska waters throughout the summer. With the salmon come the halibut. Halibut migrate into shallow waters to feed on the salmon and herring during the summer. This is what makes an Alaska fishing trip so incredible!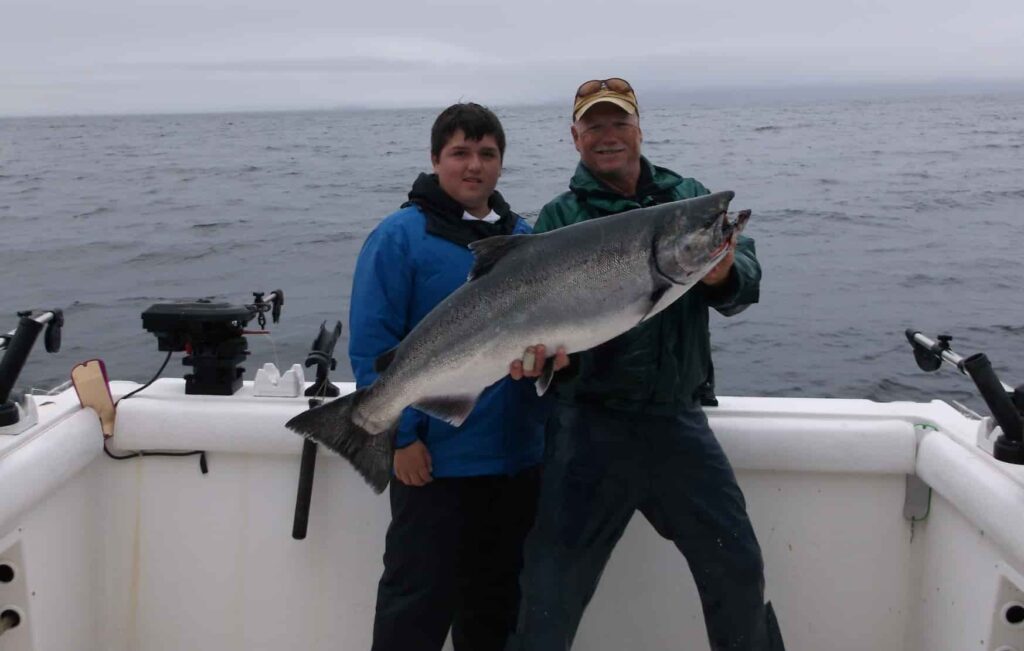 Ketchikan is the epicenter of Alaska salmon fishing. In June, July, August and September hundreds of thousands of salmon travel the waters around Ketchikan on their annual migration to native streams. Along with the thousands of salmon, halibut inhabit the deep. The five different salmon species combined with the abundant bottom feeders make an Alaska fishing trip an unbeatable angling experience!
Why Choose Our Ketchikan Fishing Lodge?
We are located a short, 90 minute flight from Seattle so you don't have to spend two days getting here. You won't have to fish in rough open seas. Ketchikan is protected by islands. If the weather gets bad we have the option to move to the back side of an island and get out of the rough water. This allows us to still offer a great Alaska fishing trip with a little more comfort.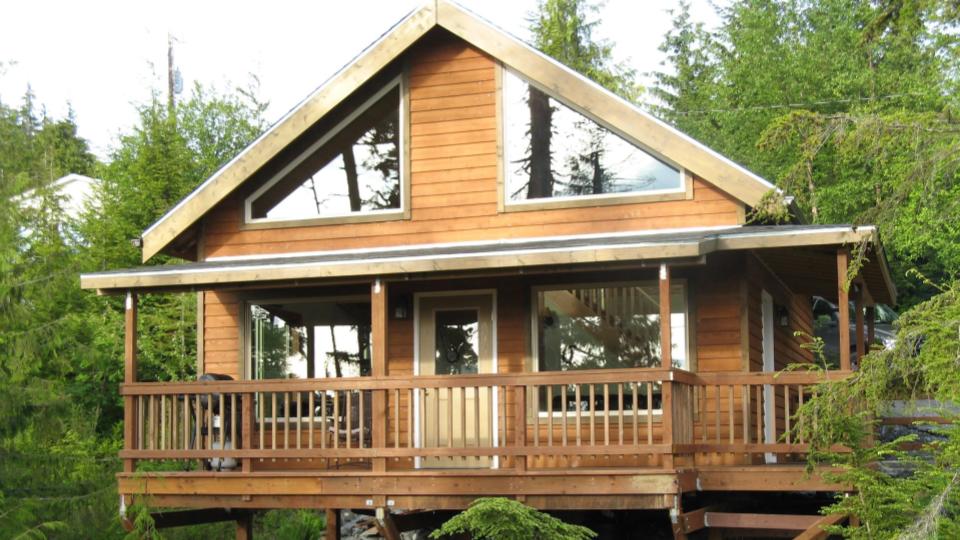 We are a small family-owned business, so when you, call you will be talking to the same person that you will be fishing with. Get your questions answered by the person with the "hands on" experience. I have enjoyed more than 24 years of fishing the local waters in Ketchikan. You won't be getting someone that has never fished in Alaska and is only here for the summer.
We offer a private boat. You will not be fishing with a bunch of strangers. You will only share the boat with your family and friends. I realize this is your Alaska fishing trip (if we see whales, bears, eagles or any other wildlife and you would like to watch them, let me know) and will try to make it as enjoyable as legally possible. I try to exceed the expectations you have of your fishing trip. We have about 90% return clientele so, I think we must be doing something right. We are happy to be able to offer such a personal experience.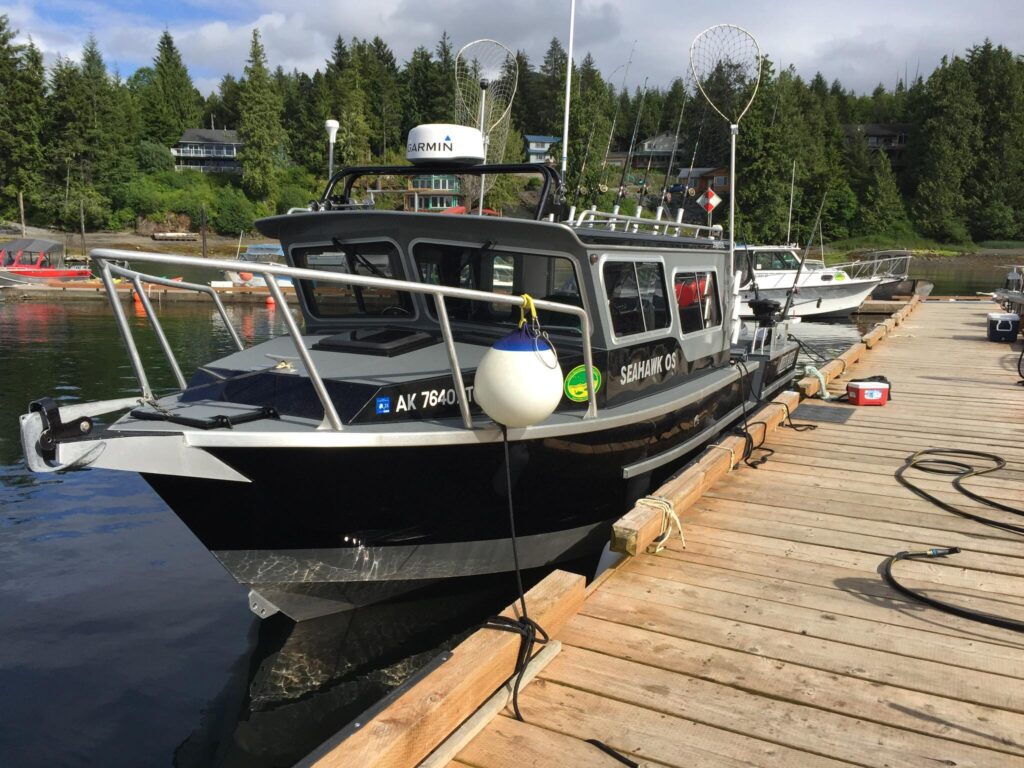 We invite you to shop around and compare our fishing packages with our competitors. Our accommodations are just as nice if not nicer than most and you will have it all to yourselves. Not everyone can offer that. We try to keep our fishing packages affordable. If you compare our fishing packages, I think you will find our prices about half of what most of the big lodges charge. I fish the same waters as some of these bigger lodges. Are we different than most Ketchikan fishing lodges? Yes, and proud of it!
Ketchikan Salmon Fishing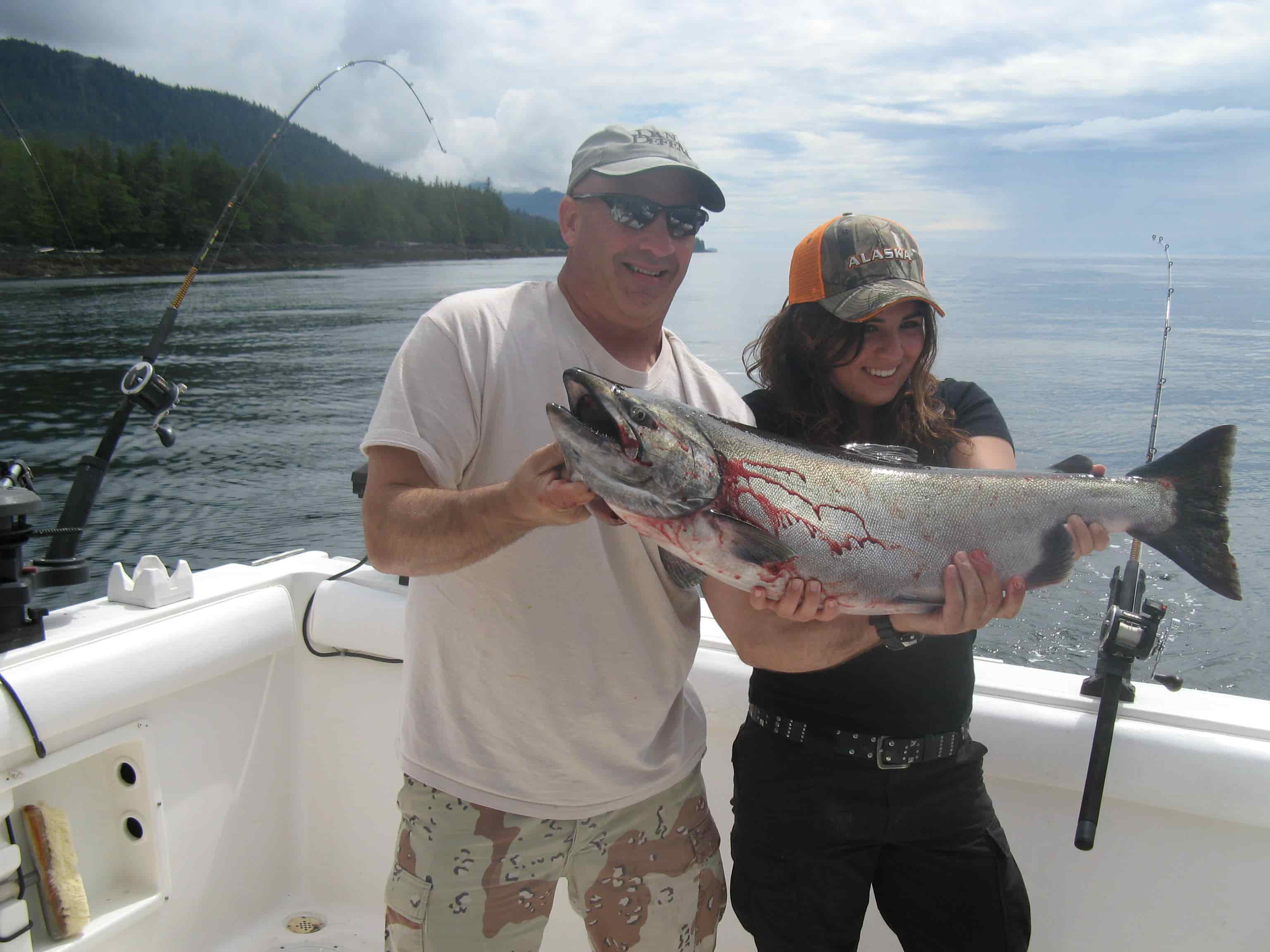 Ketchikan fishing starts off with king salmon in May. By the middle of the month the king salmon fishing should start to get good. They arrive in May. The peak of king salmon fishing is in June. King salmon range between fifteen and sixty pounds, with the average being around twenty. In May and June you are not going to boat fifty salmon on your fishing trip, but you might boat one over fifty pounds! Ketchikan fishing in July and August and September is fast and furious. We have all five salmon species (coho, chum, king, pink and sockeye) showing up at this time.
We have two runs of silver salmon. The first show up around the Fourth of July and are here through August. Ketchikan's second run of silvers show up in September and are here through the middle of October. Our September run of silvers are normally a little bigger than the summer run. As you can see, Ketchikan fishing is great all summer long.
Ketchikan Halibut Fishing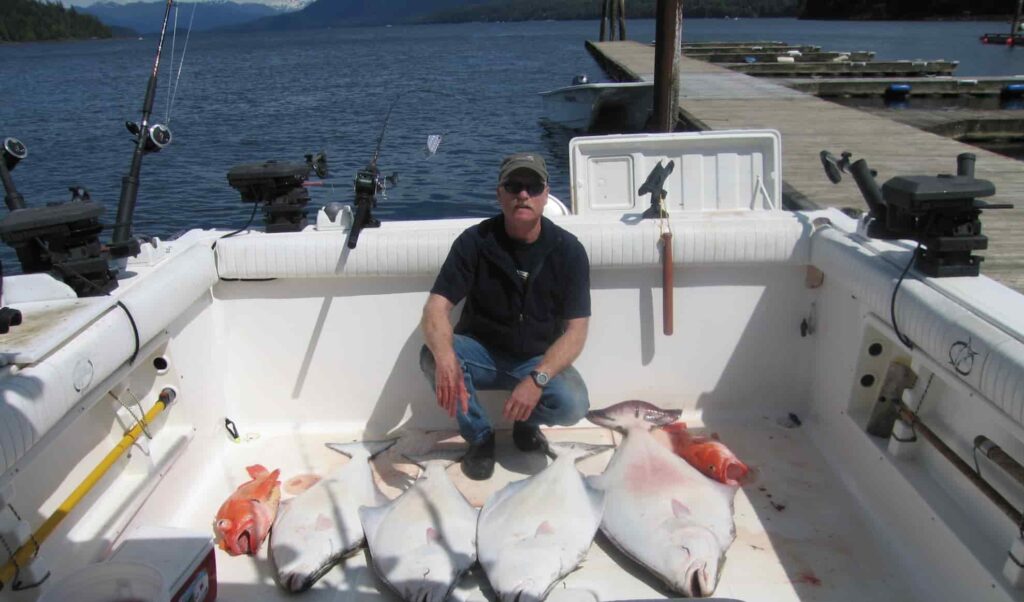 Ketchikan has some excellent halibut fishing opportunities. Alaska is world renowned for halibut fishing. The halibut around Ketchikan start showing up in May and are here through the middle of September, with the peak of halibut fishing in Ketchikan being June, July, and August. Halibut range from ten pounds to over four hundred pounds. The average is about twenty pounds. Halibut fishing is a lot of fun but be prepared to work. Normally, halibut fishing around Ketchikan, is done in 200 to 400 feet of water. Bottom types vary a lot from mud to rock. I look for structures that hold bait fish. If you find the bait fish, you find the halibut. Ketchikan halibut fishing is something you won't want to miss. Learn more at NOAA.gov.
Salmon & Halibut Fishing Charters
A typical day of fishing would start off by first choosing what you're looking for. If you don't care about halibut size and are just looking to put some fish in the box, we can halibut fish half day and salmon fish the other half. Normally we get a good salmon bite in the morning. So we would start off salmon fishing in the morning. Then switch over to halibut fishing in the after noon.
Testimonials
I believe that at certain times in our lives God gives us the opportunity to experience truly amazing things. The past four days have been one of those opportunities for me. The fishing was great, but as good as the fishing was, meeting and sharing time with all of you was truly amazing!! Jim you are special very special. Your humor and patience with all of us "low lifers" were incredible. Believe it or not I think I even learn how to do some fishing. You are a caring and loving family and it shows in all you do. Your "light" shined for all of us and all was good!
Dennis
Once again, I have to give a sincere thanks for your hospitality! Being out in the gorgeous natural surroundings, bringing in fish, riding the aqua coaster is a triple whammy of adventure. Capt' Jim is just the best. Thanks for your patience & doing everything to make it fun and successful! Coming back to the lodge almost feels like coming home, so comfortable and cozy. One of the best feelings ever to have is soreness of your arms from bringing in a big halibut. I'll take that over a gym workout anyday. You know we'll be back.
Cindy & John
Just as dad had told me, this will be a fishing trip I will never forget! I think he was planning on returning before he ever left last year! I'm glad I got to join my Dad, Uncle and two Cousins on the 2010 trip. Captain Jim, Dad came home last year with some stories about you, and I found out that he wasn't making them up. Thanks for helping me & putting up with me the first morning. You do a great job! This was my first fishing trip to Alaska and the fishing, the lodge with the view, and the people are all wonderful!
Ingrid
The fishing outstanding, view incredible, and the company (of the guide) was second to none. The Moody family make us feel like we are all part of their family. Thanks so much for a week we will never forget! You are the best in the business!!
Joe
I had some expectations as the rookie of the group and certain things I felt I deserved. I got way more than what I deserved. Phenomenal fishing, tremendous view, great hospitality by the whole family, and new friendships made. It couldn't have been a better trip. Thanks for the hard work. Can't wait for the next trip.
Gary
Turned out better then I thought it would be, great place to go and see, fishing was a bonus. I have had a few outfitters and guides over the years, some not too good. Jim you are among the best I've seen. Great outfit and family.
Tom
I would like to say thank you, words couldn't show the appreciation and happiness I have had these last few days. Hopefully my smiles revealed it all. You are a great and funny man, thankfully not "moody" as I am sure many guides are. Ha ha, all in all I couldn't of asked for a better graduation gift, and even more so making a great friend out of it, or meeting a great person at least. Hopefully I will see you again one day soon.
Jordan
To the Moody Family, Thank you very much for your hospitality. This was the most exciting fishing trip we have ever been a part of. We appreciate everything you have done for us. Hopefully we can make it back and stay at this wonderful lodge you have built, and seeing the whale breach about 50 yards from the boat is something I will always remember. You have a beautiful home and family and we thank you for our stay.
The Starr Family