We invite you to shop around and compare our Southeast Alaska fishing packages with our competitors. We offer a private boat. You will not be fishing with a bunch of strangers. You will only share the boat and lodge with your family and friends. We are happy to be able to offer such a personal experience. Our accommodations are just as nice if not nicer than most and you will have it all to yourselves. Not everyone can offer that. We try to keep our fishing packages affordable. If you compare our fishing packages, I think you will find our prices about half of what most of the big lodges charge. I fish the same waters as some of these bigger lodges.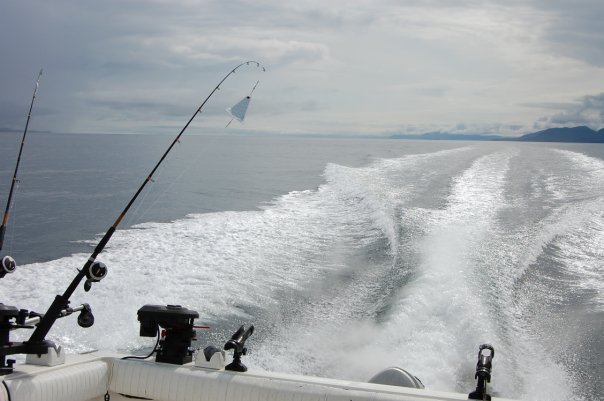 Our packages include a relaxing and comfortable retreat at your own Southeast Alaska lodge. You will also have us of a vehicle to get you where you need to go. Whether it is to and from the marina, or to check out what restaurants, sightseeing, flying trips and other fantastic attractions Ketchikan has to offer. Transportation and ferry passes to and from the airport are also included. The cabin includes a fully outfitted kitchen. You have the choice of visiting one of our grocery stores and preparing your own meals or hitting one of our local restaurants. We also have a BBQ on the deck. You can come home after a great day of fishing and grill up the catch of the day, kick back and enjoy the scenery.
The lodge has all the comforts of home, a phone, cable tv, vcr/dvd player and wi-fi internet for your laptop computer, a covered deck, a private bathroom, one bedroom and a loft for sleeping up to six guests total.
Last but not least, our packages include 8-10 hours of salmon or halibut fishing. Everything for fishing is included, bait, rods and raingear.
Prices
(Prices based on 4 person minimum)
2 days fishing/ 3 nights $1259.5 x 4 = $5038
3 days fishing/ 4 nights $1617 x 4 = $6468
4 days fishing/ 5 nights $2029.5 x 4 =$8118
5 days fishing/ 6 nights $2442 x 4 = $9768
*Packages do not include
*Airfare* Alaska Airlines is the only carrier into the area.
*Daily meals* You can eat out at one of our local restaurants or prepare your own meals at the lodge.
*Fish processing* We will drop your catch off at the end of each day. The processors will filet, vacuum seal and box your fish. It will cost about $2.00 per pound filet weight or $100 for 50 lbs of filleted fish.
*Fishing licenses* We are an ADF&G vendor and can sell you a license at the lodge.